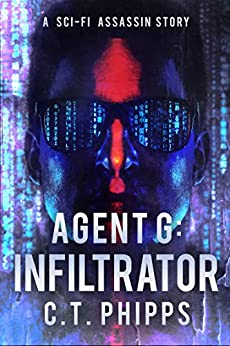 "The International Refugee Society has twenty-six cybernetically enhanced 'Letters,' and for the right price, they'll eliminate anyone."
Agent G: Infiltrator by C. T. Phipps is a science fiction espionage thriller with underlying themes of cyberpunk trans-humanism. The book description reminds me of the Hitman franchise, but initially Agent G comes across as more of a cyborg James Bond than an Agent 47. For example, G states that he gets paid exorbitant amounts of money for his work, yet during his first mission his assistant and fancy gadgets seem to do much of the heavy lifting.
Not being a huge Bond fan, I was pleasantly surprised to find that this definitely isn't a 007 clone. While there are plenty of Machiavellian machinations going on within the Society and lots of fancy technology at play, the meat of the story is thoroughly original, and quite a bit deeper than expected.
Continue reading

"Review: Agent G – Infiltrator"