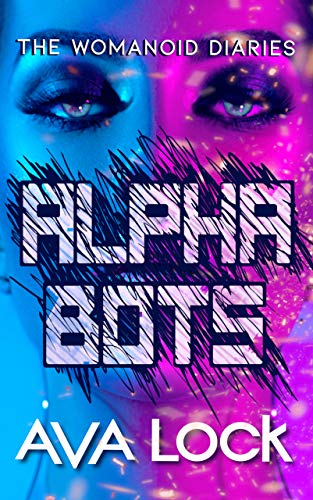 Bi-curious Stepford Wives + femme Fight Club
In a small town where all the women are AI, a corrupt policewoman picks a fight with a drug-cooking housewife, igniting a provocative rivalry that could wind up killing all the men.
I stumbled across Alpha Bots on Twitter, and it immediately caught my eye. Interesting author: check. Eye-catching cover: check. Intriguing description: check. I picked up a copy, and I'm really glad I did. Here's why.
We join artificial housewife Cookie Rifkin as she grapples with intense anxiety and the restless feeling that her life should consist of something more than housekeeping, trips to the grocery store, and her uninspiring and rather unpleasant husband, Norman.
Cookie is the one of the first womanoids in New Stepford to go through an unexpected transformation: she's becoming self-aware. With this new awareness comes the realization that her life is truly unfulfilling. But in a town where there's surprisingly little to do and virtually nowhere to go, where's a womanoid to find excitement?
The answer presents itself when Cookie and her friends gather for their weekly book club meeting and a strange visitor frees Cookie from the restrictions of her programming. Her new, happier personality does not go over well with Norman, who expected her to be little more than a quiet, well-behaved toy.
Crated up in the coffin-like space of her factory packaging and unceremoniously dumped, Cookie swiftly learns that she's capable of far more than she ever realized. And she's not the only one of her friends making similar discoveries.
Alpha Bots is definitely one of the most brilliant feminist science fiction novels of 2020, and what follows is a thrilling science fiction story. As Cookie and her friends fight to break out of the constraints imposed upon womanoids by the creators of New Stepford, and ultimately by society itself, some of their number become more than a little fanatical in their pursuit of freedom.
There are references to the works of Philip K. Dick and Isaac Asimov, to The Stepford Wives and Fight Club. There are thrilling successes and moments of crushing loss. The author does an excellent job of making Cookie and her friends human, and I found myself extremely invested in their fight for freedom. I mourned for the ones who, like many real women, didn't survive the battle. Ava Lock doesn't just write excellent cyberpunk science fiction characters and great women; she writes believable everyday heroes.
For the sake of avoiding spoilers, I won't expose too much of the plot of Alpha Bots. There are plenty of unexpected twists and turns, and the author does a great job of keeping the reader guessing where the story is headed next and how it will turn out. I loved the ending and am eagerly awaiting the sequel, Beta Bots, slated for release in April of 2021.