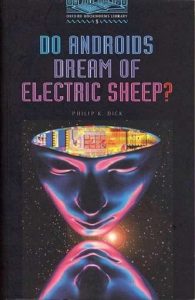 I finally got around to reading Philip K. Dick's Do Androids Dream of Electric Sheep? And although I had no idea what to expect going in, it was still nothing like what I expected.
Rick Deckard is a police bounty hunter, "retiring" escaped androids that pose a vague threat to Earth's remaining human population. His world is dull and grey, full of despair and the detritus of human lives long gone. Nuclear war has made much of Earth uninhabitable, causing freak mutations and decimating animal populations. Most humans eligible to immigrate to off-world colonies have done so.
While this premise might sound dark, gritty, thrilling, and potentially action packed, –spoiler– this novel is not.
Continue reading "Review: Do Androids Dream of Electric Sheep?" →