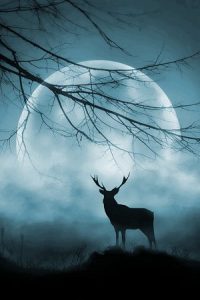 Author's note: Blood and Bluegrass takes place immediately after the events of The Moon Buck. If you haven't already, take a moment to give the previous story a read!
The tracks were the same.
Annabelle stared at the impressions in the muddy leaf mold, ears ringing from a sudden surge of adrenaline.
The story was there, trampled by the searchers that found her sweetheart's body, the coroner, sheriff, and crime scene investigators.
Jeremiah's tracks picked their way through the brush from the road. He'd staggered mid-step and fallen to his knees, his boots cutting gouges in the dirt. A larger set of tracks followed his, superimposed over his prints in a few places but the same age. The tread on the second set of boots was chunky, size fourteen, and brand new. Their owner was standing right behind her, calling her name.