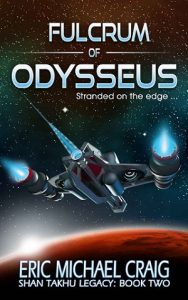 The discoveries made by the crew of the Jakob Waltz in the cold darkness of the outer solar system have set off a catastrophic chain of events, fatally destabilizing the fragile balance of power among the factions of the Human Union. Worse, they've inadvertently activated a doomsday failsafe created to protect humanity in the event of contact with an extrasolar entity.
Former FleetCartel Chancellor Katryna Roja and her allies are on the run, the crew of the Waltz is struggling to make the best of an increasingly ugly situation, and it's beginning to look like humanity will be far worse off under the control of the omnipotent and all-encompassing AI known as Odysseus than they were under the Human Union. More calculating than the greatest chess master, able to infiltrate and manipulate virtually any system, Odysseus swiftly proves itself to be a cold, calculating, and ultimately ominous entity.
The artefact encountered by the intrepid crew of the Jakob Waltz isn't without its own mysteries and perils either. Just as Odysseus at first seemed benignly helpful, the Tacra Un proves to be at times disturbingly unconcerned with the well-being and ongoing survival of its unwilling inhabitants.
If you enjoyed the hard science, intrigue, and interstellar action of Star Trek and felt that Skynet wasn't far-reaching or threatening enough, then Fulcrum of Odysseus is definitely for you! It's a riveting read and I greatly enjoyed it. Honorable mentions are also in order for the slang spoken by the residents of Tsiolkovskiy Freeport East (very nicely done!) and the introduction of genetically modified and upgraded humans. This is one of those rare series where the second book is even better than the first.
Sound interesting? Fulcrum of Odysseus is available in paperback, ebook, and Kindle Unlimited on Amazon. New to the series? Start with Legacy of Pandora, and check out my review here.