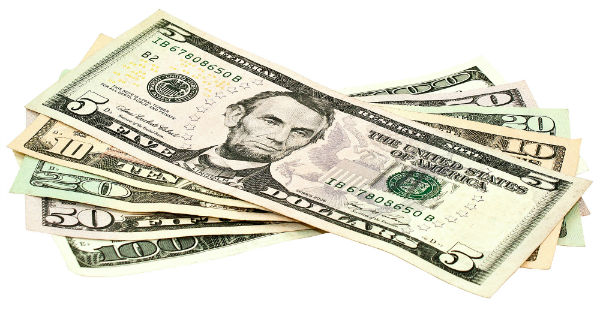 The first books I sold through Ingram Spark (Lightning Source's independent author print-on-demand service) were purchased way back in early January of this year. After a phenomenally long 90 day holding period, I received notification that compensation for those sales would be paid out on May 1st, 2018.
Only it wasn't.
It wasn't a huge amount of money and I receive small payments from a wide array of sources each month, so it wasn't until early June that I realized I'd never received any payment from Ingram Spark. After double-checking that my compensation information was complete and accurate, I contacted them. Here's what happened and what I learned.
In Search of Answers
About twelve hours after I sent my query, the message bounced back: mail delivery failed. Either ingramsparksupport@ingramcontent.com was no longer a good address, or their email server had my email server on its block list. After a bit research of and some input from a friend who's an IT Professional, it turned out to be the latter.
Fingers crossed that I'd be able to open a support ticket from an email address that wasn't the one associated with my account, I emailed Ingram Spark Support from an email account with a different provider. And then I waited. And waited.
On July 2nd I received this helpful canned response, which led me to believe no one had actually read my query. I'd made it clear that I wasn't asking about the status of payment for recent sales, but for those that should have paid out on May 1st.
"We were notified that you had a question on why you have not been paid yet for book sales. Looks like we haven't approached payment date yet. You are paid 90 days from end of the month when books sold.
Here is more info from our finance team: April sales are not yet due, March sales are in process for payment today as per terms/schedule. Thanks!"
My response:
"Attached is a copy of the unpaid publisher compensation report I'm referring to. The sales were made in January and the payment was due May 1st. Are you saying that it will be additional 90 days?"
On August 20th, I received this response:
"Thank you for reaching out to us. Because we are unable to confirm your royalties, please contact our Accounts Payable team at Sales_Comp_Dept.us@ingramcontent.com."
In the interest of full disclosure, my gripe isn't with the slowness of this exchange. This was a particularly busy summer for me, and there was sometimes a week or two between when they responded and when I found their response. Response dates are the dates on the emails, not the dates I discovered them in my inbox.
When I resubmitted my query to the Sales Compensation Department, I received this reply:
"Leland– Lightning Source, Inc. attempted to send an electronic payment on 5/1/18, however, the deposit was rejected by your bank stating 'No account/Cannot locate.' Therefore, your payment method was changed to USD check.
Lightning Source, Inc./IngramSpark has a minimum check writing threshold of $100.00 for payments made via USD/Check, thus, payments are not sent until sales accumulate to the $100.00 minimum.
To prevent payment delay due to our check writing policy, you have the option to change your payment method. Please complete the attached direct deposit form and return it to ——–@ingramcontent.com. See below for payment options….Please note, direct deposits cannot be sent to a savings account, checking accounts only. Please let me know if I can be of further assistance." (Emphasis mine.)
There was the answer I'd been seeking for nearly three months: the direct deposit had failed because it was sent to a savings account. For some inexplicable reason, Ingram Spark doesn't deposit to savings accounts.
Why This IS Concerning
There are several things I find disturbing about this chain of events.
The first occurred on May 1st, when Ingram Spark attempted to pay me via direct deposit, failed, attempted to write me a check, failed, and then decided to sit on my money until I'd accrued $100 in royalties. At no point during that chain of events did they reach out to me to say "Hey, something went wrong. Would you like to verify your banking information or give us new instructions?" And in our modern world of automated email notifications, that wouldn't have been hard to do.
To find out what was going on, I had to circumvent a support email system that had my major email provider's servers blocked. Then I had to argue my way past several layers of support that seemed strangely keen to dismiss my query as 'You're just mistaken about when your royalties are due.'
When I finally reached Ingram Spark's compensation department, they were quick to explain what had happened. Unfortunately their contact info isn't publicly available to those with compensation-related questions.
Lastly, a lot of time and effort could have been saved if Ingram Spark's publisher compensation page stated that they don't deposit to savings accounts. But for some reason, it doesn't.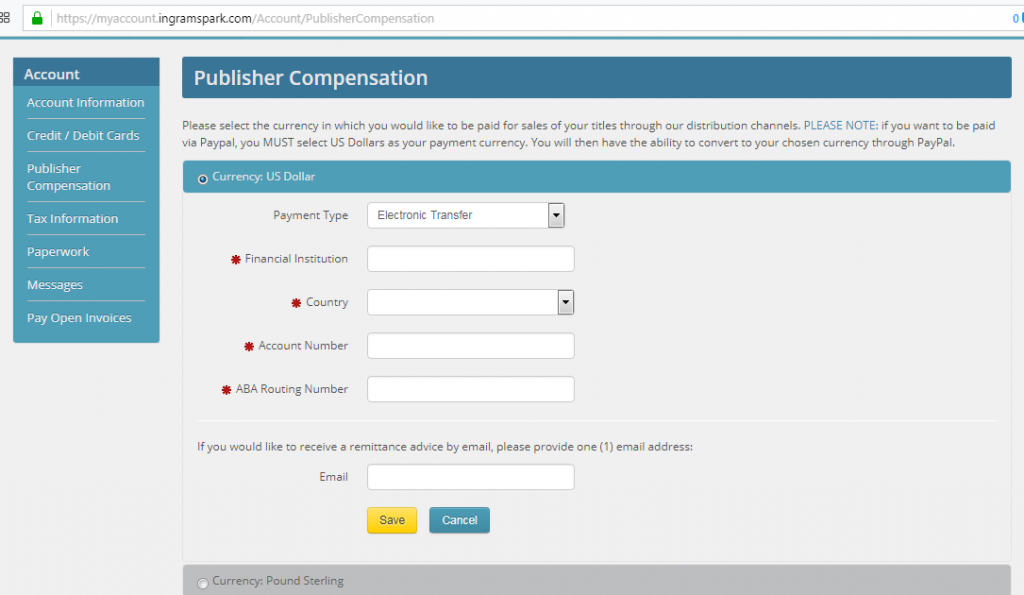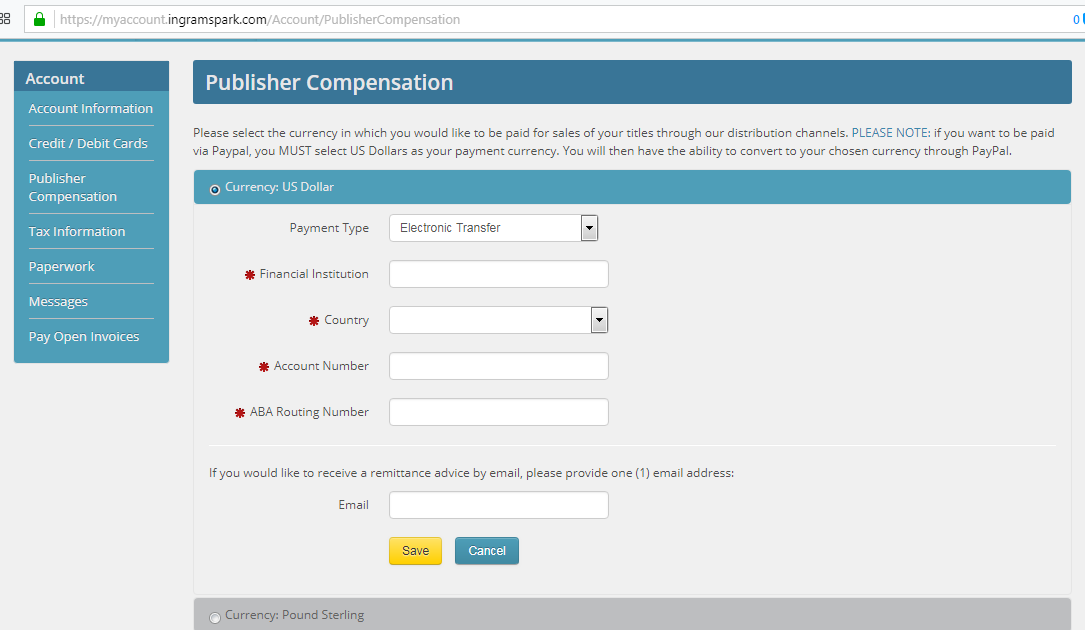 Why This Is Surprising
I'm one of those people who actually read the legal documentation of things I sign up for. In today's legally savvy times, most exploitive service clauses are hidden in plain sight in the Terms and Conditions.
As a result, I'm rarely surprised– but it was a surprise to me that Ingram Spark doesn't deposit to savings accounts. This is not stated anywhere that I could find on their site. Perhaps it was a standard practice to only deposit to checking accounts forty or fifty years ago. As the song goes, "The times they are a-changing."
Amazon and Createspace have no trouble depositing my compensation to a savings account. Neither do Barnes & Noble and Kobo. Every job I've ever had that offered electronic deposit has been able to utilize my savings account, as have several dozen utilities, service providers, and credit cards companies.
Banking practices have changed a lot in the last few decades. With the rise of plastic and the onerous restrictions attached to checking accounts, those accounts are rapidly losing their usefulness. I don't know anyone my age or younger who still writes paper checks. Many of us don't have a checking account at all. Checking is functionally obsolete.
Smart businesses have moved with the times and discarded checking-only policies. Of the many businesses and financial institutions I've had dealings with over the years, only two have retained their out-of-date checking-account-only policies: Chase Bank credit cards and Lightning Source's Ingram Spark.
Why this is Unethical
While the $100 check payment threshold is relatively low, the average independent author probably won't sell enough books to meet that threshold in a month. Many may not sell that many books through Ingram Spark in a year.
Imagine thousands of payments, each totaling anywhere from a few dollars to nearly a hundred, sitting in an bank account somewhere collecting interest. It may be months or even years until the individual author accrues enough compensation to justify a paper check. This is clearly a profitable practice for Ingram Spark. It's also very obviously unethical, given the lack of notification authors receive when their payment method is changed from direct deposit to paper check.
A warning For Authors
Most independent and self published authors are busy people. We write, run businesses, work full time jobs, and raise families. We don't always have time to keep a watchful eye on every publisher and wholesaler our books are listed with. We trust those businesses to pay out compensation honestly and in a timely manner.
There are undoubtedly quite a few authors out there who don't realize their Ingram Spark compensation remains unpaid. Fellow Ingram Spark users, this is my message to you: check your sales reports regularly and check that your compensation is actually being paid out– because Ingram Spark won't tell you if it isn't.