In honor of the fact that it's the holidays and life is supposed to be cheerful, this week's blog is devoted to my review of S.E. Anderson's Starstruck.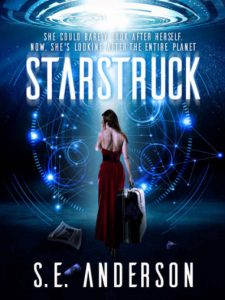 I wasn't quite sure what to expect when I started reading this book. I had been assured that it was science fiction, and the description compares it to Hitchhiker's Guide to the Galaxy. On the other hand, the cover looks a bit like the love child of a hard scifi novel and a romance. Suffice to say I wasn't quite sure what to expect but was pleasantly surprised by how the story played out.
Starstruck is a fun, lighthearted scifi tale about a struggling young woman who finds aliens hiding in plain sight here on Earth. Despite her best efforts, protagonist Sally Webber gets drawn into the intergalactic intrigue and meets sinister alien bounty hunters, diabolical crab-people, and a race of empathetic beings who'd really just like the humans to return the crew of their missing spaceship.
There's a comedic element that had me laughing out loud, touching friendships, handsome aliens, and a diverse cast of fascinating characters. The chapter titles are brilliant, with entries like "In Which I Gain a Healthy Distrust of Parks," "All of the Abduction, None of the Probing," and "Messy Things You Can't Clean With a Sponge." Starstruck also asks some fascinating scientific questions, like what happens to the momentum of a body in motion when that body is teleported to another location.
It's an entertaining read that strikes the perfect balance between believable science and lighthearted fun. Sally is a protagonist I found very easy to empathize with, and I felt that the ending was exceptionally well-done– although I can't explain why without giving away major spoilers. In short, I really enjoyed Starstruck and I think you will too. I highly recommend it.
★★★★★
Starstruck is available in hardcover, paperback, and Kindle formats on Amazon; in hardcover, paperback, and Nook book formats from Barnes & Noble; and in ebook format on Kobo. Why not support this awesome author and pick up a copy for yourself?
I hope you've enjoyed this happy holiday review. Don't forget to like and subscribe for more reviews and random insights! You can also follow me on Facebook and on Twitter @Leland_Lydecker.