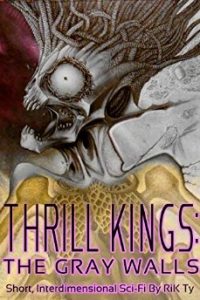 In The Grey Walls, our heroes battle an interdimensional intruder like nothing they've ever seen before. Having taken over an office tower, the creature seems to be slowly absorbing its hapless victims– which include Nonstop, Krork, and all of the office workers, as well as a multitude of nightmarish creatures from other dimensions.
The result is an office tower filled with a maze of constantly-shifting gray walls– walls which bear still-living impressions of the creature's meals.
They turned, only to find a second gray wall blocking the other end of the corridor. Within it, colorless, an emaciated horse-thing walked in place.
You see, this inter-D creature is quite sentient. And it definitely doesn't want its latest meal getting away.
Closer, the creature's head seemed to be in profile. One large eye looked out from its face, surrounded by rings of tubular shadows like nests of worms.
This is a stand-alone excerpt that will give you chills while taking you on a jaunt through wondrous halls of horror. The resolution is more than satisfactory, and cemented my need to read more of the author's work. The back matter contains a wealth of background on the Thrill Kings and an essay about how this particular story came to be, which I highly recommend reading if you have a few minutes to spare.
Rik Ty is an up-and-coming author to watch, and he has a knack for writing the eerie and inexplicable. Worth purchasing for the stunning cover art alone, Thrill Kings: The Gray Walls is a highly recommended read.
You can find this story, as well as tons more of Rik Ty's work, on Amazon. Back in October I reviewed Thrill Kings: The Shaftway, and there will definitely be more Thrill Kings reviews appearing here in the the future!