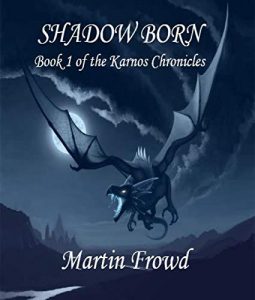 Eight year old Zarynn is an orphan. His parents were killed for committing the unspeakable heresy of worshiping a deity of light, and Zarynn is slated to be ritually stoned to death for manifesting magical abilities of his own when a dark stranger intervenes to save his life.
Rescued by the necromancer Glaraz, Zarynn embarks on an epic journey to escape certain death at the hands of the druids that rule the lands his people call home.
Magical fantasy isn't usually my go-to genre, but sometimes I find a book in that genre that I really enjoy– and for that reason I'm extremely glad I took a chance on Shadow Born. This is a dark and vivid tale, and even when told from Zarynn's point of view it doesn't feel like a young adult novel. While the materials covered isn't quite grimdark, there are plenty of life or death battles, barely-achieved escapes, and horrific and suspenseful moments.
What really makes this story stand out, though, is the author's narrative voice. The sights, smells, and sounds of Zarynn's world practically jump off the page, and the story flows along at a place that keeps the reader wanting to know what comes next. It's also clear that a lot of research went into developing the culture, language, and magic systems used in the story.
The reversal of fantasy stereotypes in Shadow Born is a refreshing change from typical fantasy fare: in this world, the druids aren't guardians of light and natural order. They worship a dark deity that feeds on misery and suffering, and rule the Twelve Tribes with an iron hand. The heresies of knowledge and open-mindedness are rooted out with lethal strictness.
Conversely, it was a pleasant surprise to discover a necromancer as the hero of the story. Glaraz is a fascinating and likeable character, a master necromancer with a host of nasty spells under his belt which he uses to defend himself and the children he rescues. It was fun to see spells that shatter bones and explode hearts used to protect the defenseless from harm.
This darkly uplifting tale of a young magic-user's rescue from certain death gets an enthusiastic 'Yes!' vote from me. I highly recommend you check out Shadow Born if it sounds like your cup of tea!
Shadow Born is available in ebook and paperback on Amazon.