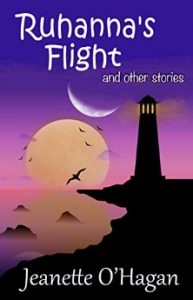 Within the pages of Ruhanna's Flight and Other Stories, author Jeanette O'Hagan spins tales of shapeshifters and seafaring peoples, youthful struggles, first loves, enduring loss, and incredible courage. All but a few of the stories are set in the world of Nardva, and some of the characters will be familiar to readers of O'Hagan's Akrad's Children.
Having enjoyed Akrad's Children greatly, I was thrilled to find this collection of short stories imbued with the same haunting storytelling style. Ruhanna's Flight and Heart of the Mountain were two of my favorites. O'Hagan's young characters are human and relatable, yet display exemplary strength in the face of life or death challenges.
I was also pleasantly surprised by the science fiction tales at the end, especially Space Junk. O'Hagan shows herself to be a versatile author, and I hope to read more futuristic science fiction from her in the future. If I had any complaint at all, it's that I was sad to see some of these stories end.
I would not be at all surprised to see this author's work become a classic before the end of my lifetime. If you haven't checked out this collection of short stories yet, you're missing out!
You can find Ruhanna's Flight and Other Stories on Amazon, Barnes & Noble, and Kobo, as well as through other fine booksellers.