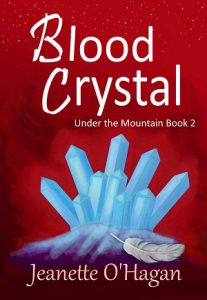 In the aptly-named Blood Crystal, twins Delvina and Retza face the aftermath of the banishment of the evil Overseer Uzza. The Glimmer Heart that powers their people's subterranean world is failing, and time is running out for the Darane to find a solution.
It falls to the intrepid twins to embark on a wildly dangerous journey to seek outside help. Somewhere in the world beyond the mountains, their young shape-shifter friend Zadeki and his people may have an answer to the riddle of the Heart of the Mountain. Will Delvina and Retza survive the journey? And will they make it back in time to save their people?
I loved all of the main characters in this story: wild Zadeki, Delvina the kind and courageous, and our reluctant hero Retza. In Blood Crystal we get to see more of Zadeki's world, both through his eyes and those of the twins, and we get to see all of the central characters grow. A truly excellent novella-sized tale, Crystal possesses a satisfying ending and hints that there is much more to come. I'm looking forward to the next installment!
You can read more about the Under the Mountain series on Goodreads , and you can check out more of Jeanette O'Hagan's work on her website.